A 'child friendly audit': consulting with children on the redevelopment of Freyberg Square in Auckland's CBD.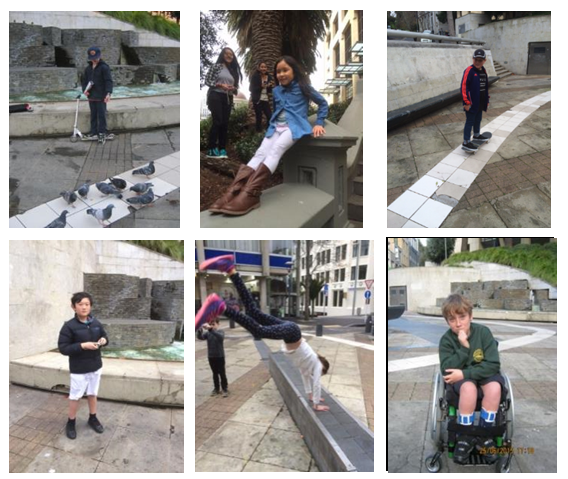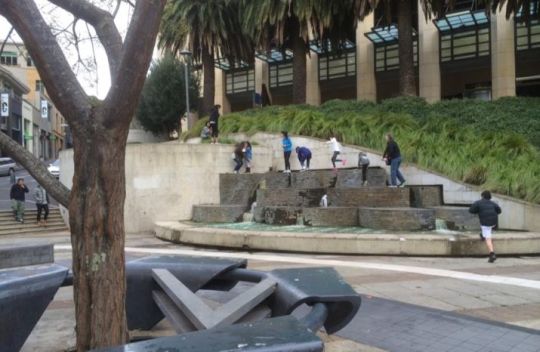 SHORE & Whariki Research Centre was approached by Auckland Council in June 2015 to carry out a 'child-friendly audit' of Freyberg Square in Auckland's CBD – in the first instance, an audit of the current square; and later, of the proposed redevelopment concept plans.
A reference group of 7-13 year-old children (most of whom had been part of earlier Kids in the City projects, participated in a preliminary workshop and on-site consultation in June 2015, followed by a photo-voice exercise in July. In August they provided feedback on Auckland Council's draft concept plan for the square.
Key questions for the children were:
What do you like and why?
Where and what would you play?
What don't you like and why?
Do you feel safe?
They were asked to specifically consider:
seating
the tree near the centre of the square
the water feature
the Lord Freyberg statue
And:
What changes would they like to see?
When might they come to Freyberg Square and who with?
Would they come for special events?

In the follow-up July workshop the children wrote captions for their photographs and produced a montage of their photographs and ideas, which they presented to the Waitemata Local Board in October 2015.
Once a draft concept design had been completed, the children met again on site. Lisa Spasic, Project Manager of the design team presented the draft concept, showing children where and how their ideas/feedback had been incorporated. The illustration below includes some examples.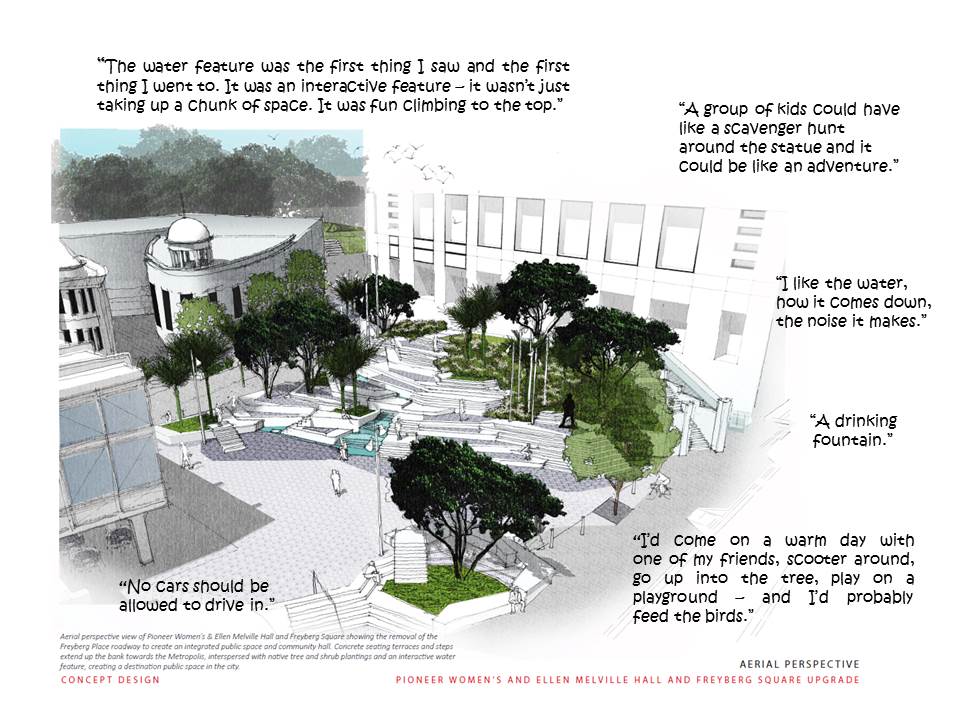 The children's audit had greatly helped designers shape the draft concept, said Lisa Spasic. Some suggestions were included specifically; others more generally informed the design.
Some examples of children's ideas included in the draft concept design are listed below:
Children's comments
Project Leader's comments
Access to the statue of Lord Freyberg:
 

 

'The statue is nice to touch because it is smooth'

"Some kids said that they wanted to touch him and it would be fun to play around him, so we made sure that we … provided access up to and around the statue."
Being able to play amongst the plants on the bank and access areas above the square:
 

'It's fun to play in the bushes'

"They talked about how they would really love to do a treasure hunt or to play in the plants and access some of the out of bound areas, and so we worked in a discovery trail."
Climbing and being up high:
 

'It just feels good to sit up high'

"That was quite an easy one to work into the design…we provided many different places of stairs and terraces so that children felt like they could be up high at many different points within the space."
The water feature:
 

'I liked how you could jump around the fountain'; 'If someone in a wheelchair wants to touch the water they have to lean over'

 

"The water feature is much more organic now in form than it was in the previous design. You can walk over it, you can be in it, you can step through it on little stepping stones…and you can easily touch it."
Climbing trees:
 

'You could have a ladder so kids could easily get up'

"They loved being able to climb the trees. That helped solidify the fact that we thought Pohutukawa [a climbable New Zealand native] would be a good species."
Other suggestions designers took on board included signage explaining the significance of Lord Freyberg; drinking fountains (including positioning one where those in wheelchairs could reach it); art work; and bean bags, balls and other equipment which could be stored inside the Ellen Melville and Pioneer Women's Hall and used out in the square.
The children were asked for feedback on the draft concept:
What do you like?
What else would you like to see here?
Where would you play?
What activity would you like to see here?

The children also considered how the adjacent Ellen Melville and Pioneer Women's Hall – also being redeveloped by Council – could be better integrated with Freyberg Square.

The children were generally positive about the draft concept. They welcomed the opportunity to contribute their ideas and reported that the audit process had helped them to do so.
The children's audit was an urban planning 'first' for Auckland Council.
"It's actually been extremely useful. The whole concept is stronger because it's had input from the children around what they would like in the space, how they'd use it, what could be improved, " said Lisa Spasic.
"I would definitely be an advocate for following this process again on another project".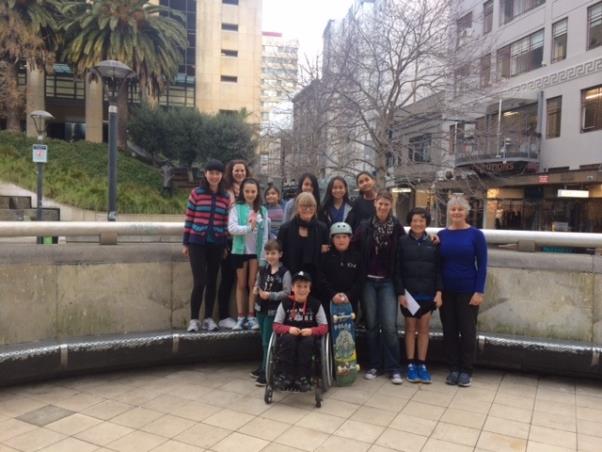 The audit team (above).